Top 10 Picks from the 2020 Consumer Electronics Show
Estimated reading time: 7 minutes. Contains 1398 words
Last week was the Consumer Electronics Show, or CES 2020, a global trade show that is the world's most influential tech event. It's held every year in Las Vegas (Vegas, baby, Vegas…!) and draws over 170,000 attendees from more than 160 countries. It's ginormous, in both size and prestige.
How big? Well, with more than 4,500 exhibitors, 11 official venues, and more than 2.9 million net square feet of exhibit space, to say that CES is just a "trade show" is an understatement. It's 66 acres(!) of floor space where tech companies new and old gather to launch products, build brands and partner to solve some of the world's most challenging issues.
So, yeah, CES isn't just a "trade show." It's the Master of All Tradeshows!!
So now, from our peaceful, brightly-lit open space in the big-windowed, converted textile school that is Groundwork (ah…!), let's enjoy a tiny little virtual tour of some of the most interesting new products from CES… without the bustling crowds. :)
10 Amazing Products at 2020 CES
A Klaxoon Teamplayer, that is! What's a "Klaxoon" you ask? Klaxoon is a French company with a fun, interesting product for remote and coworkers all over the world. So interesting, in fact, it was a 2020 CES Innovation Award Honoree! From the CES Award listing:
"Imagine if collaboration could be as playful, simple and interactive as playing video game?" What if there was a portable, compact device to assist remote workers by turning any screen into a fun, game-like collaborative workspace? Welp, now there is, with Klaxoon Teamplayer.
Klaxoon allows coworkers to use phones, tablets, or computers to "participate, vote, react and brainstorm in real time." Their Challenge, Vote, Storm and Meeting apps "gets teams 100% engaged and allows everyone to participate, and generate feedback on-site or remotely."
Using Klaxoon Teamplayer for a meeting, you can either use your own devices, or, announced at CES (and pictured above), one of their innovative new Teamplayer pad controllers, powered by Bluetooth.
With 9 dynamic shortcut buttons for meeting hosts and on-site workers, you can "turn it, press it, grab it, slap it: with the dial controller, a dynamic button with a rotating ring allows you, on your desk or in the palm of your hand, to navigate fluidly among your activities. Like in the 80's how video games changed the way people played, the Teamplayer is designed to revolutionize the way people collaborate" — from the CES 2020 INNOVATION AWARD PRODUCT List
Hum… maybe there's a Klaxoon meeting in Moby's future…? ;)
CES 2020 Best of Innovation Award in "Tech for a Better World"
While tech wearables for humans like smartwatches & fitness trackers have been iterating and improving, the tech tags attached to our underwater friends have remained largely unchanged. Most are bulky, uncomfortable and, unfortunately, sometimes painfully attached to underwater creatures.
Joanna Nassar, a postdoc at Stanford, kept wondering why scientific wearables weren't changing. Why couldn't the trackers scientists need for fish become smaller and less-intrusive like human wearables?
So Nassar and her fellow scientists at mmh Labs developed Bluefin, a wearable tag for fish. Their tagging technology uses flexible, stretchable electronics that unobtrusively sticks to the fish.
Fitted onto a fish of any size in less than 30 seconds, "Bluefin functions continuously for a whole year at a proven depth of two kilometers in the ocean." –CES Bluefin can measure water temperature, pressure, depth and pH levels in parts of the ocean that humans can't reach.
According to Muhammad Mustafa Hussain, a professor of electrical engineering who worked on developing Bluefin, "The gathered data will be analyzed to preserve and to enhance the marine ecology anywhere in the world."
Lenovo unveiled a product they've been teasing since May 2019: a foldable PC, the ThinkPad X1 Fold. This is the first fully functional PC with a folding display. When it's fully unfolded, it becomes a large, flat 13.3-inch display, with a keyboard. Or it can be folded in half to become a super-small laptop-like device, where you can either use a stylus to write on the bottom screen or pull up a virual, on-screen keyboard. It also has a separate physical keyboard that you can use on top of the lower screen. Seems very versatile!
If you're like me, you spend the day switching between your phone, tablet and laptop. Well, Lenovo claims the "ThinkPad X1 Fold is a pioneering, new type of lightweight device that can successfully bridge core strengths of each and is without compromise on performance or screen size, yet compact enough to slip into the smallest of bags." Well have to wait to see; it comes to market mid-2020.
In the spirit of coworker consideration, you've probably never thought "Oh, I know! I should bring my electric guitar to Groundwork and play during breaks." Right? Well, now with the Boss WAZA-AIR Wireless Personal Guitar Amplification System, you can shred in a cubicle. Or in the gallery. Or play, well… anywhere you want! Because these personal amp headphones mean you won't bother coworkers around you with your, um… unique..! sound. :)
"This personal amplifier system brings stunning realism to playing with headphones, using a gyro sensor and moving 3D space to deliver natural "amp-in-room" tone that's rich, resonant, and infinitely inspiring." — BOSS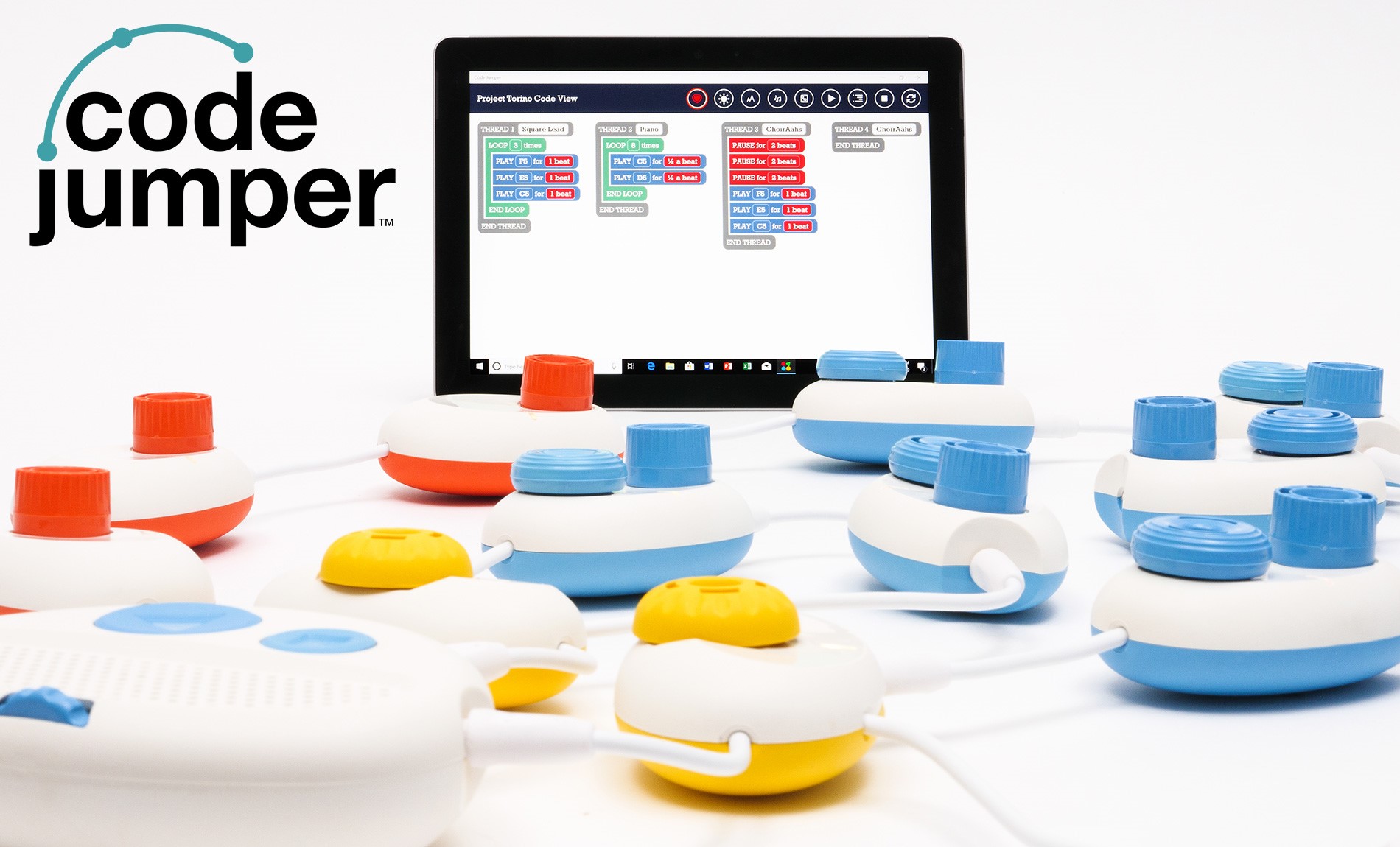 Won CES 2020 Best of Innovation Award for "Accessibility"
As someone who sits in front of a computer looking at a monitor all day, every day while creating Bloggin' Ninja, I never realized how much I take for granted this everyday task, until I read this. How could I do this if I was visually impaired? I couldn't.
Well, Code Jumper's setting out to change that. Their mission is to allow ALL children the opportunity to learn how to code.
"Code Jumper™ is an incredible innovation that teaches students who are blind or visually impaired computer coding. By putting the block code tactually in your hands, all students can learn together in an inclusive setting. Children not only learn basic programming concepts… but will also be encouraged to think computationally, such as solving the same challenge in multiple ways."
Won the CES 2020 Best of Innovation Award for Health & Beauty. The newly launched Colgate Plaqless Pro is a first-of-its-kind smart toothbrush that detects biofilm buildup in the mouth so that it can be removed while brushing. This smart electric toothbrush immediately alerts the user when an area is clean, coaching better brushing in real-time. It has an app that pairs to the brush via Bluetooth and "provides instant brushing feedback, personalized data, coaching and oral care tips."
The new Hatch Restore is a small sleep light/sound machine/alarm clock that helps you find your perfect sleep routine, so you can get your best night's sleep.
Hatch Restore brings together various proven-to-work aspects of sleep study science with a programmable, smartphone app that controls the Hatch sleep device, helping you optimize your sleep routine.
Pix Backpack is the first LED backpack where you can display images, animations, widgets and even play games. You can create your own pixel art, use it as an assistant to display widgets or stay safe and visible with it's bright, playful lights. It syncs with your IOS/Android smartphone you can write, draw and literally play right on your backpack. Fun!
And last but not least…
"Really?!" is what I thought when I first read that iKuddle introduced a catbox that is a connected, smart device. "Do we REALLY need a smart litter box?!" But then when I read: "No more scooping. With a tap of a button, iKuddle cleans itself, packs the waste for you, and eliminates odors." I was like, well, alrighty then..! Maybe we do need 'em! Right now it's a PreOrder in an Indigogo campaign, but it looks like they'll be $329-399.
With all this new tech, it's a great (but expensive!) time to be alive, isn't it? So, whatdya say we all get back to work so we can pay for the new _____ we NEED to have from this list of great new CES tech. (I have three items with a serious "Want!" — how about you?)


Oh, and by the way…. This blog post idea was developed using Bloggin' Ninja's super-fun Brainstorm Boards®. It's TitleTopic #64 ;)
Latest posts by Noi Sabal
(see all)